Another series I really like is Melissa Marr's
Faery Court
series.
Synopsis:
"In a world unseen by mortals, the forces of Summer and Winter are at war. Two Faery Courts have been seeking the Summer Queen for more than nine centuries-
-one to restore the power of Summer and the other to banish it in this gritty modern Faery tale."
Synopsis:
Seth never expected he would want to settle down with anyone-but that was before Aislinn. She is everything he'd ever dreamed of, and he wants to be with her forever. Forever takes on new meaning, though, when your girlfriend is an immortal faery queen.Aislinn never expected to rule the very creatures who'd always terrified her-but that was before Keenan. He stole her mortality to make her a monarch, and now she faces challenges and enticements beyond any she'd ever imagined.In Melissa Marr's third mesmerizing tale of Faerie, Seth and Aislinn struggle to stay true to themselves and each other in a milieu of shadowy rules and shifting allegiances, where old friends become new enemies and one wrong move could plunge the Earth into chaos.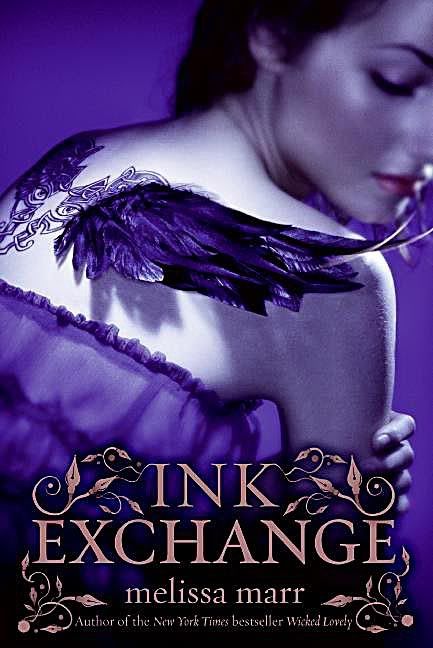 Synopsis:
"Unbeknownst to mortals, a power struggle is unfolding in a world of shadows and danger. After centuries of stability, the balance between the Faerie Courts has altered, and Irial, ruler of the Dark Court, is battling to hold his rebellious and newly-vulnerable fey together. If he fails, bloodshed and brutality will follow.
17-year-old Leslie knows nothing of faeries or their intrigues. When she is attracted to an eerily beautiful tattoo of eyes and wings, all she knows is that she has to have it, convinced it is a tangible symbol of changes she desperately craves for her own life.
The tattoo does bring changes—not the kind that Leslie had dreamed of, but sinister, compelling changes that are more than symbolic. Those changes will bind Leslie and Irial together, drawing Leslie deeper and deeper into the faerie world, unable to resist its allures, and helpless to withstand its perils.
Melissa Marr continues her tales of Faerie in a dark, ravishing story of temptation and consequences, and of heroism when least expected. "

And...
Radiant Shadows is the fourth book in the Faery Court series by Melissa Marr. It is due to be released April 20, 2010.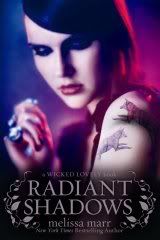 Hunger for nourishment.
Hunger for touch.
Hunger to belong.
Half-human and half-faery, Ani is driven by her hungers.
Those same appetites also attract powerful enemies and uncertain allies, including Devlin. He was created as an assassin and is brother to the faeries' coolly logical High Queen and to her chaotic twin, the embodiment of War. Devlin wants to keep Ani safe from his sisters, knowing that if he fails, he will be the instrument of Ani's death.
Ani isn't one to be guarded while others fight battles for her, though. She has the courage to protect herself and the ability to alter Devlin's plans—and his life. The two are drawn together, each with reason to fear the other and to fear for one another. But as they grow closer, a larger threat imperils the whole of Faerie. Will saving the faery realm mean losing each other?
Alluring romance, heart-stopping danger, and sinister intrigue combine in Melissa Marr's next volume of Melissa Marr's New York Times bestselling Wicked Lovely series.
Check out her
website
for more information and extras!